Nearly 40% of Michigan Households Financially Insecure Due to Pandemic, United Way's ALICE Report Shows 
The ranks of Michigan households unable to afford the basics grew by more than 62,000 during the first two years of the COVID-19 pandemic, resulting in a total of nearly 1.6 million households, or 39 percent, struggling to afford the basics by 2021.
That calculation includes the 525,754 Michigan households in poverty as well as another 1,044,970 families defined as ALICE. ALICE in the Crosscurrents: COVID and Financial Hardship in Michigan shows that the total number of financially insecure households rose by 4 percent between 2019 and 2021—double the 2 percent increase in the state's overall population. The number of ALICE households increased by 2 percent during this time. Additionally, the report shows that Michigan ranked 22nd in financial hardship among all 50 states, with one of the nation's higher percentages of households struggling to make ends meet in 2021.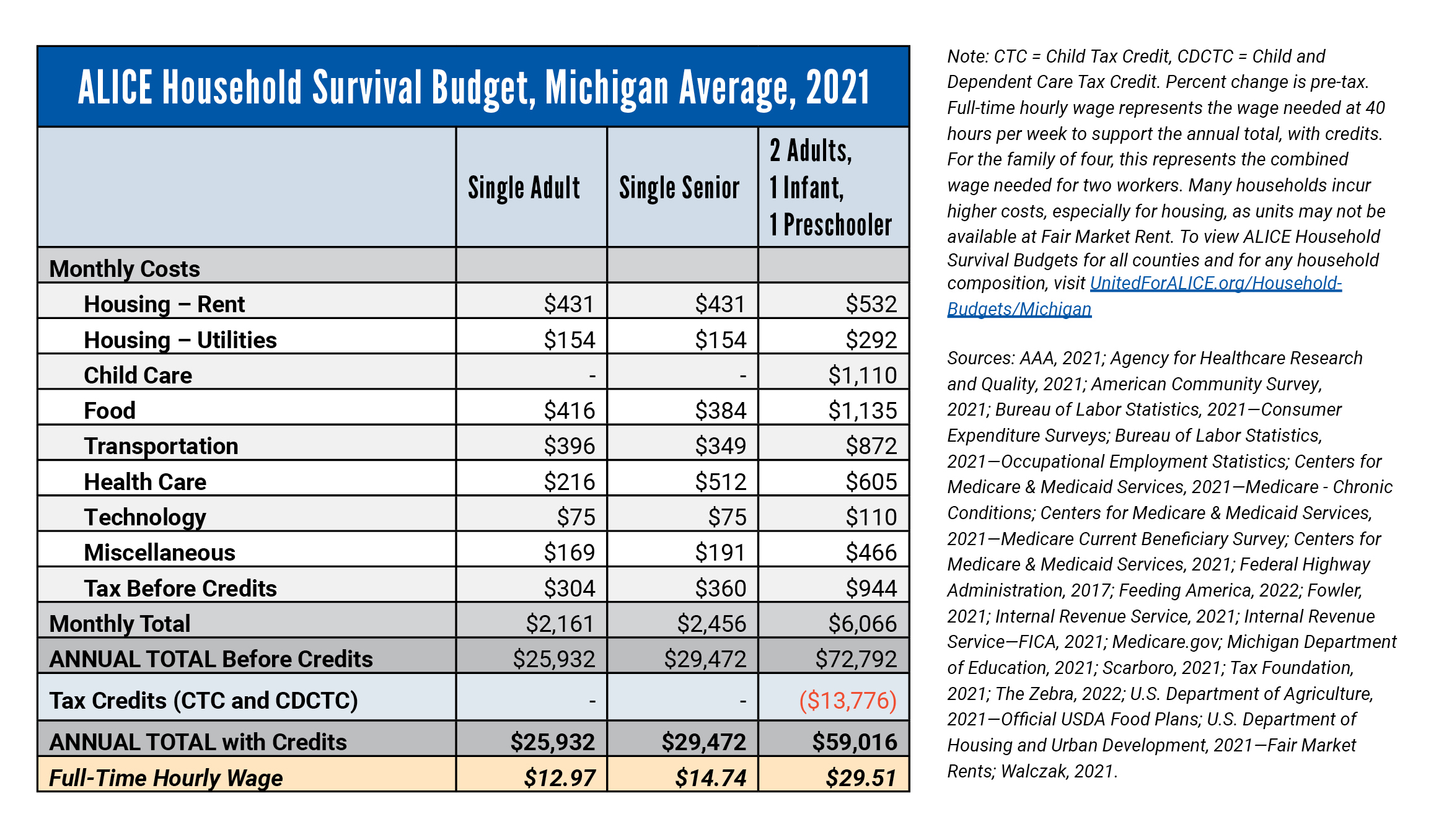 While job disruptions and inflation delivered significant financial pain, a combination of pandemic supports and rising wages did help to blunt what could have been a deeper financial crisis, the report finds. However, as some benefits are peeled back, and inflation persists, financial strain may continue to plague Michiganders below the ALICE threshold.
According to the report, for a family of four with an infant and a preschooler, the annual ALICE Household Survival Budget, which is the basic cost needed to live and work in Michigan, was $72,792 in 2021. The Child Tax Credit and Child Dependent Care Tax Credit helped to soften the blow, bringing the family Survival Budget down to $59,016. 
Even with the variety of temporary pandemic supports available, in 2021, a family of four with two-full time workers earning salaries as a retail salesperson and a cashier—two of the most common occupations in Michigan—was just able to meet their basic expenses with the help of these supports.
ALICE in the COVID Economy: A Study of Financial Hardship in Michigan - FAQs
ALICE (Asset-Limited, Income Constrained, Employed) households are those with income above the federal poverty level (FPL) but below a basic survival threshold that includes being able to pay for housing, child care, food, transportation, health care and technology. This specific report, "ALICE in the COVID Economy: A Study of Financial Hardship in Michigan," is produced by United For ALICE, a driver of innovative research and action around financial hardship for ALICE households.
In 2021, 1,570,724 households in Michigan — that's 39% —had income below the ALICE Threshold of Financial Survival. This is a 1% increase from its 2019 report findings. In 2017, it was 43%.
The economic disruption of the pandemic made it more difficult for households to move above the ALICE Threshold. The cost of basics increased in Michigan and remained well above the federal poverty level (FPL).
The expanded Child Tax Credit (CTC) and Child and Dependent Care Tax Credit (CDCTC) have made a significant impact on the ALICE population. The total ALICE Household Survival budget was $72,792, but with the assistance of tax credits, the total decreased to $59,016. Tax credits were well above those for traditional public assistance programs, making them available to most poverty-level families and ALICE households. However, those credits expired on 12/31/21 and since, ALICE families continue to struggle. Without those supports moving forward, we could see huge growth in the ALICE population.
Between 2019 and 2021, the average annual costs (excluding taxes) increased 12% for a single adult, 9% for a single senior, and 8% for a family of four.
The federal poverty rate is commonly regarded as inadequate for measuring the true scope of financial need in the country.
United Way believes in a research-based model in order to fully understand and best respond to the needs of our communities. We wanted to understand the causes of the problems, not just the end results.
We sought to provide objective, comprehensive data that can be used for serious policy planning in every arena.
ALICE households are a vital part of our community. We are all interconnected and the success of our communities and state depend on ALICE households' ability to meet their needs. There is a systemic problem that cannot be solved with one simple solution – policymakers, academics, businesses and social service agencies need to work together to address long-term systemic change. 
With a commitment to racial and economic justice, this research is shared with foundations, policymakers, corporations and nonprofits to inform policy and promote positive change. 
We are shedding light on the underlying causes keeping ALICE households from making progress.
United Way currently works to provide short- and medium-term solutions for ALICE households, such as scholarships to access quality child care, free tax preparation and financial and career mentoring.
While the ALICE Report serves to make information available to policymakers and business leaders alike, there are several legislative actions the Michigan Association of United Ways believes would directly improve the lives of Michigan's ALICE population:
2-1-1: Give ALICE an effective, non-bureaucratic connection to faith-based, nonprofit and public resources before their needs become costly emergencies – by providing additional funding to Michigan 2-1-1.
Child Care: Remove the child care barrier for ALICE by ensuring access through increased child care provider payments and affordability by raising the subsidy cap to include ALICE families.
Early Literacy: Implement the necessary supports for all children to read by 3rd grade—provide birth to age eight resources to achieve early literacy proficiency.
EITC: The Working Families Tax Credit brings much needed support, and it boosts the economy. The EITC expansion offers an opportunity to significantly increase the economic wellbeing of Michiganders, especially ALICE families, since the EITC targets only working families and encourages them to progress in the workforce. 

Thank you for increasing the state's EITC to 30% of the federal EITC to positively impact Michigan's working families, businesses, and communities. 
Given today's increasing costs to cover the basics, the Working Families Tax Credit can do the most good right now – support SB 144 so that working families receive the credit and keep more of their hard-earned money this year, rather than wait until 2024.  
In some cases, the root of the issue is low wages. But workers are also having difficulty finding full-time, continuous work.
There is no one-size-fits-all policy decision that will eliminate the issues Michigan's ALICE community faces.
That being said, the Michigan Association of United Ways has outlined the following as the most important legislative actions to help Michigan's hard-working families: support Michigan 2-1-1, remove the child care barrier, increase access to early literacy and supporting the Working Families Tax Credit.
While we cannot predict the future of ALICE, the Report does outline several trends that could impact the economic landscape for ALICE families in the years to come:
The Changing American Household — Baby boomers are aging; millennials are making different lifestyle and work choices than previous generations; and patterns of domestic and foreign migration are shifting. These trends are changing both household composition and demands for goods and services.
Market Instability — A globally connected economy means economic disruptions and natural disasters in one part of the world will increasingly have an impact on ALICE workers in the U.S., contributing to employment instability, a shifting supply and demand and a disruption in traditional modes of operation.
Health Inequality — As health costs rise, there will be increasing disparities according to income and other social determinants of health, such as access to health care, educational opportunities and safe neighborhoods. Expensive medical advances that are out of reach of lower-income households will only further this divide.
Current and Future Economic State — With pandemic assistance waning while significant challenges remain, there are warning signs that the economic situation for households below the ALICE Threshold has worsened since 2021, including:

Higher levels of food insufficiency
Learning loss due to widespread school closings and disrupted education
Negatively impacting physical and mental health
Difficulty paying rent and everyday bills
Lack of savings